A Variety of Group Fitness Classes!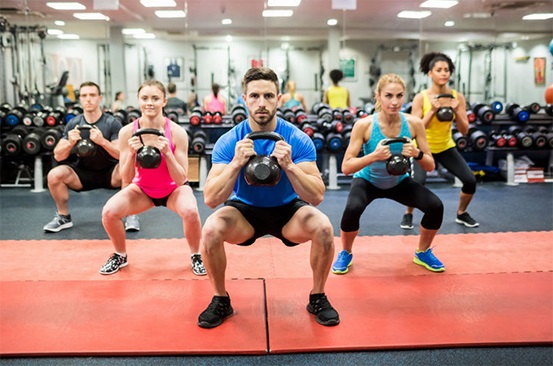 Body Pump
The revolutionary weight training workout using barbells with adjustable weights, set to motivating music. Body Pump is a simple, athletic based workout that strengthens, tones and defines every major muscle group in your body. Ideal for beginners right through to experienced exercisers.
Body Step
We've taken the dance out and put the muscle back into step. Body Step is a simple, athletic workout with high intensity intervals followed with muscle conditioning tracks that will shape and tone your body and push your fat burning system into high gear. Not for the fainthearted, Body Step is a great cardio workout that will get you back on your step and back into shape.
Body Attack / CX WorkX Combo (30/30 Split)
A simple, high-intensity cardiovascular class inspired by sports training moves. We also incorporate upper and lower body conditioning for building strength.
Body Flow
A revolution in mind-body training that will change the way you feel about your body forever. You'll stand straighter, feel stronger, become more flexible and more physically aware. Designed for all fitness levels, Body Flow is set to uplifting music and will increase your endurance, reduce stress and relieve pain.
Cardio Express
Get in and get done with this 30–45 minute cardio blast formatted to elevate heart rates and make members sweat. Can include the following: H.I.I.T., Step, Attack, Kick, Jam, Vive, Bootcamp, and Interval.
HIIT
High Intensity Interval Training. Blast your way into shape with this 30-minute cardio and strength training workout. A fast- paced, hard-core combination of sports specific training with military-style drills sure to whip you into shape. Don't have a lot of time to commit to your fitness goals? This class is perfect for you!
Hip Hop Cardio
You've seen the clips from the hottest hip hop videos. Get the same funky moves fast and furious with full- on dance sequences that will make you feel like the hottest dancer out there.
SHIIT
Take Step and mix with HIIT principles and you have this high energy, calorie/fat burning workout. Come for 30 minutes or stay for the whole 45, your body will thank you. Caution: Frequent attendance may cause major results.
Yoga 101
An hour format designed especially for our beginners, seniors, pre and post natal members, as well as those who just want a nice slow stretch. Providing the basics of breath, alignment and the benefits of Yoga, while demystifying the 5,000 year old practice, this class offers the necessary instruction allowing all to feel successful. Bring a towel and prepare to relax and rejuvenate.
Cycle
A high energy cardio workout on a stationary bike to motivating music, ideal for all fitness levels. You will get unparalleled fitness results as your instructor coaches you through flat roads, hills, intervals, and more.
PIYO
Energizing, no impact class for all fitness levels where muscle sculpting is combined with the core training benefits of Pilates and the strength and flexibility of yoga. The speed of the movements is increased for a true cardio benefit also! Come redefine your body.
Kickboxing
An intermediate to advanced class designed to give you a safe, high energy workout incorporating punching, kicking, cardio work, footwork, and intervals.
Body Step Express 30
The best of step condensed into a time-efficient 30 minutes, to include warm-up and cool down.
Body Pump Express 45
A 45-minute condensed version of BODYPUMP™. The original LES MILLS™ barbell class, will sculpt, tone and strengthen your entire body, fast!
Body Pump Express 30
A 30-minute condensed version of BODYPUMP™. The original LES MILLS™ barbell class, will sculpt, tone and strengthen your entire body, fast!
Pump Plus
BODYPUMP™, the original LES MILLS™ barbell class, will sculpt, tone and strengthen your entire body, fast! Great bodies aren't born, they are transformed, using the proven BODYPUMP™ formula: THE REP EFFECT™ a breakthrough in resistance workout training. Focusing on low weight loads and high repetition movements, you'll burn fat, gain strength and quickly produce lean body muscle conditioning. BODYPUMP™ is one of the world's fastest ways to get in shape as it challenges all of your major muscle groups while you squat, press, lift and curl.
HIIT/CX
Info coming soon...